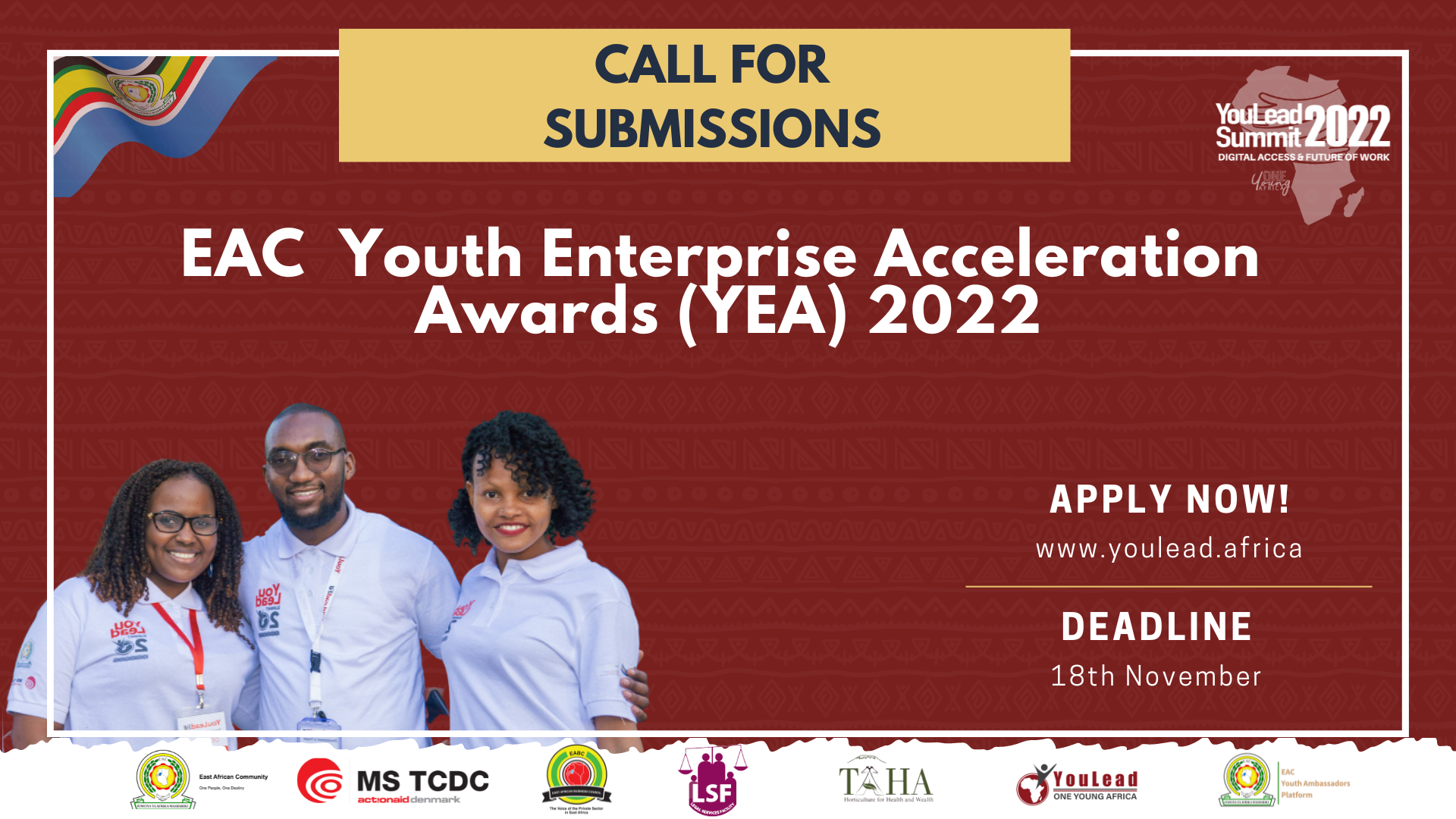 EAC Youth Enterprise Acceleration Awards (YEA) 2022
The East African Community (EAC) Youth Enterprise Acceleration Awards is one among our Youth in Business initiatives, developed in response to the economic impact of the Covid-19 pandemic and in search for ways to be part of creating solutions in the spirit of "building forward stronger with youth", under YouLead's Youth in Business Program Pillar which strives toward youth inclusion in economic governance and enhancing access to economic opportunities and decent work for sustainable development. The initiative supports youth-led businesses at two stages: 1. Early-stage businesses Ideas that require startup capital and skills development for initial market user research, development of product prototypes and market testing. 2. Growth stage businesses Ideas which have already begun generating revenue and now looking to scale through developing their finances, marketing and teams.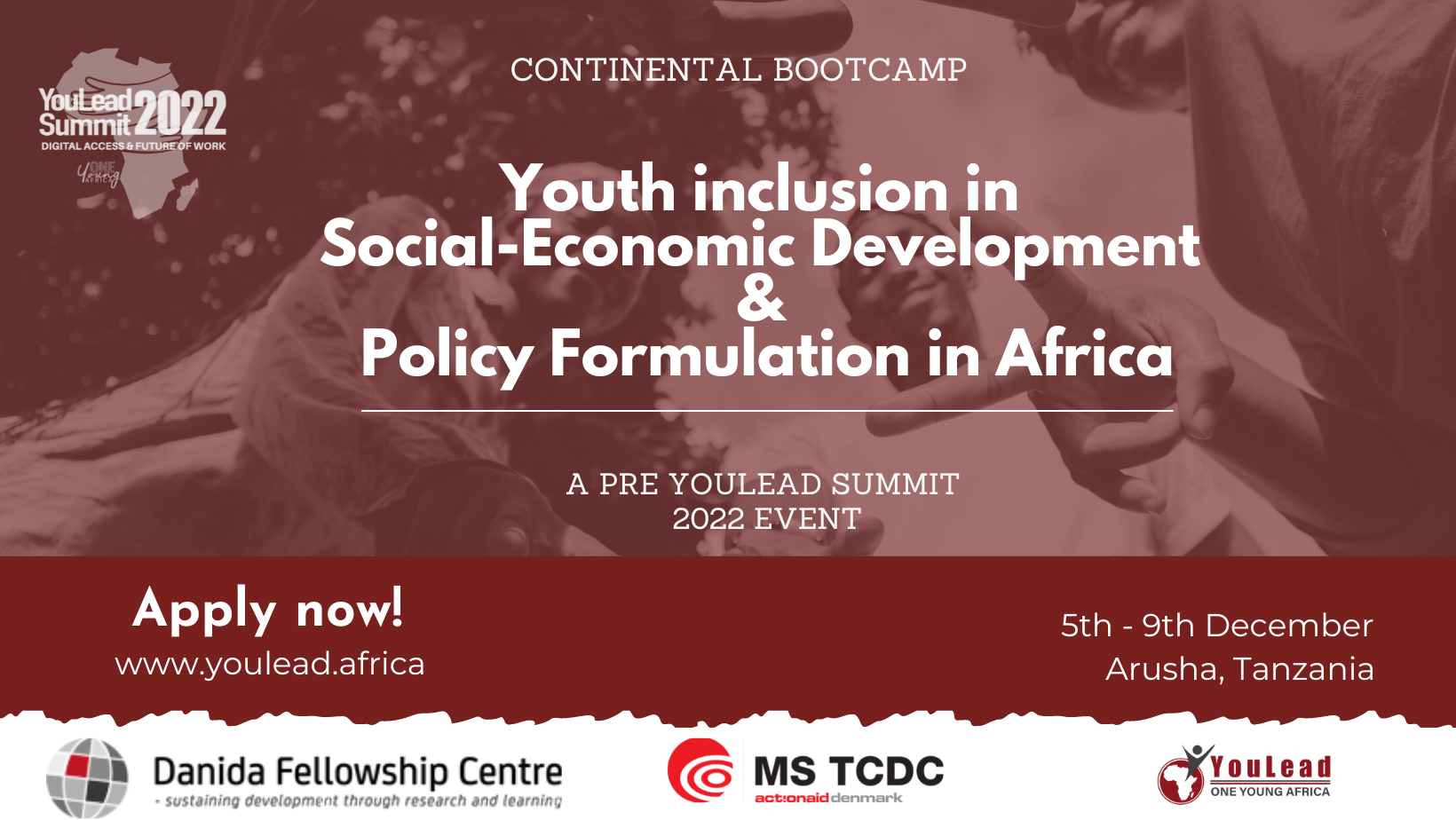 Youth inclusion in Social-Economic Development and Policy Formulation in Africa: A Continental Bootcamp for Youth Leaders and Policy Makers.
The MS Training Centre for Development Cooperation in collaboration with the Danish Fellowship Centre will be sponsoring a training on Youth inclusion in Social-Economic Development and Policy Formulation in Africa as a precursor to the Annual YouLead Summit. This call for applications is particularly for youth leaders in business, economic and politics. Policy makers are being invited by the respective Danish Embassies in the Danida partnership countries. Successful applicants will participate in the boot camp and thereafter proceed to participate in the YouLead Summit. The Continental Bootcamp for Youth Leaders and Policy Makers will bring together relevant policy makers, young business leaders and leaders of youth support organizations. We seek to, on one hand, equip youth with the knowledge of the AfCFTA and the tools they require to engage in AfCFTA and better their readiness to tap into the opportunities. Youth leaders will gain awareness and general understanding of the AfCFTA, how they stand to benefit from it, and how to best prepare themselves for maximum benefit, they will also have the opportunity to network and interact with policy makers and fellow youth leaders. On the other hand, policy makers will jointly learn and discuss with youth leaders the key youth-related issues to be considered in the development and implementation of the AfCFTA, especially the Protocol on Women and Youth in Trade that is currently being prepared for negotiation in 2023. Policy makers will further be equipped with tools and techniques on how to best work with youth in supporting their empowerment as well as supporting efforts in promoting an enabling environment for youth to influence, participate, and lead economic development processes in their respective countries especially in the error of AfCFTA. We are calling on interested youth and policy makers to apply and participate in this course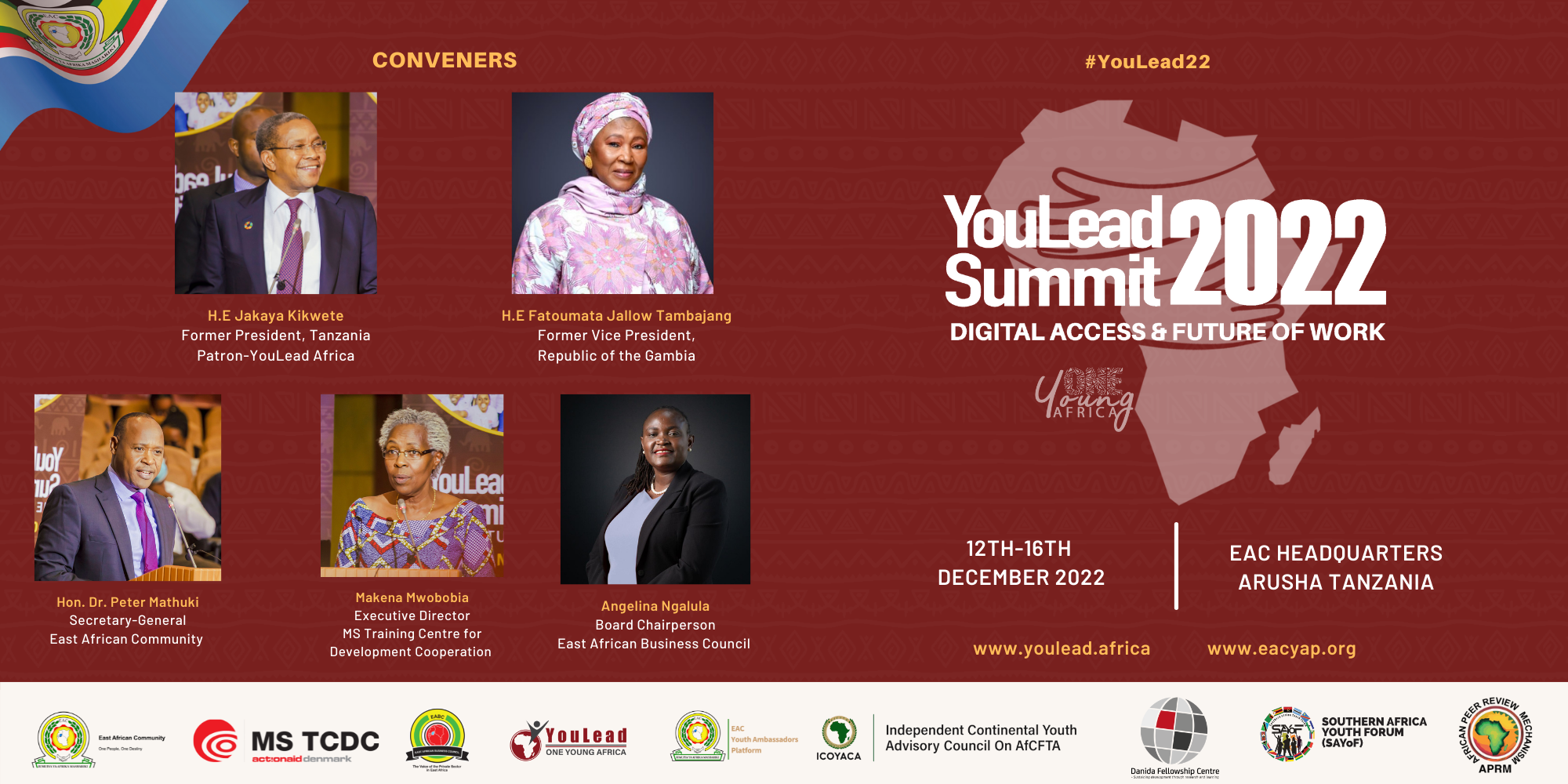 YouLead Summit 2022
H.E Jakaya Kikwete, former President of Tanzania, also Patron of YouLead, H.E. Fatoumata Tambajang, former Vice-President in the Republic of The Gambia, Hon. Dr. Peter Mathuki, Secretary-General of the East African Community, Ms. Makena Mwobobia, Executive Director, MS Training Centre for Development Cooperation, Ms. Angelina Ngalula, Board Chairperson, East African Business Council are convening the 6th EAC YouLead Summit 2022 from the 12th to the 16th of December 2022 at the EAC Headquarters in Arusha Tanzania. The EAC Heads of State are expected to grace the summit. YouLead Summit 2022 will be held under the theme: Digital Access and Future of Work Since 2017, YouLead Summit has been convened annually by the East African Community (EAC), MS Training Centre for Development Cooperation (MSTCDC) and other partners in Arusha Tanzania through their youth engagement initiatives – the EAC Youth Ambassadors Platform and YouLead– Africa Youth Leadership Program respectively. In 2021, the East African Business Council (EABC) joined the partnership with focus on promoting youth participation in trade. In 2022, in the spirit of GOING AFRICA, Southern Africa Youth Forum (SAYoF) has joined the partnership as a major convening partner for YouLead Summit 2022 going forward.