YouLead Africa
For theYouLead Community
Current & Upcoming Events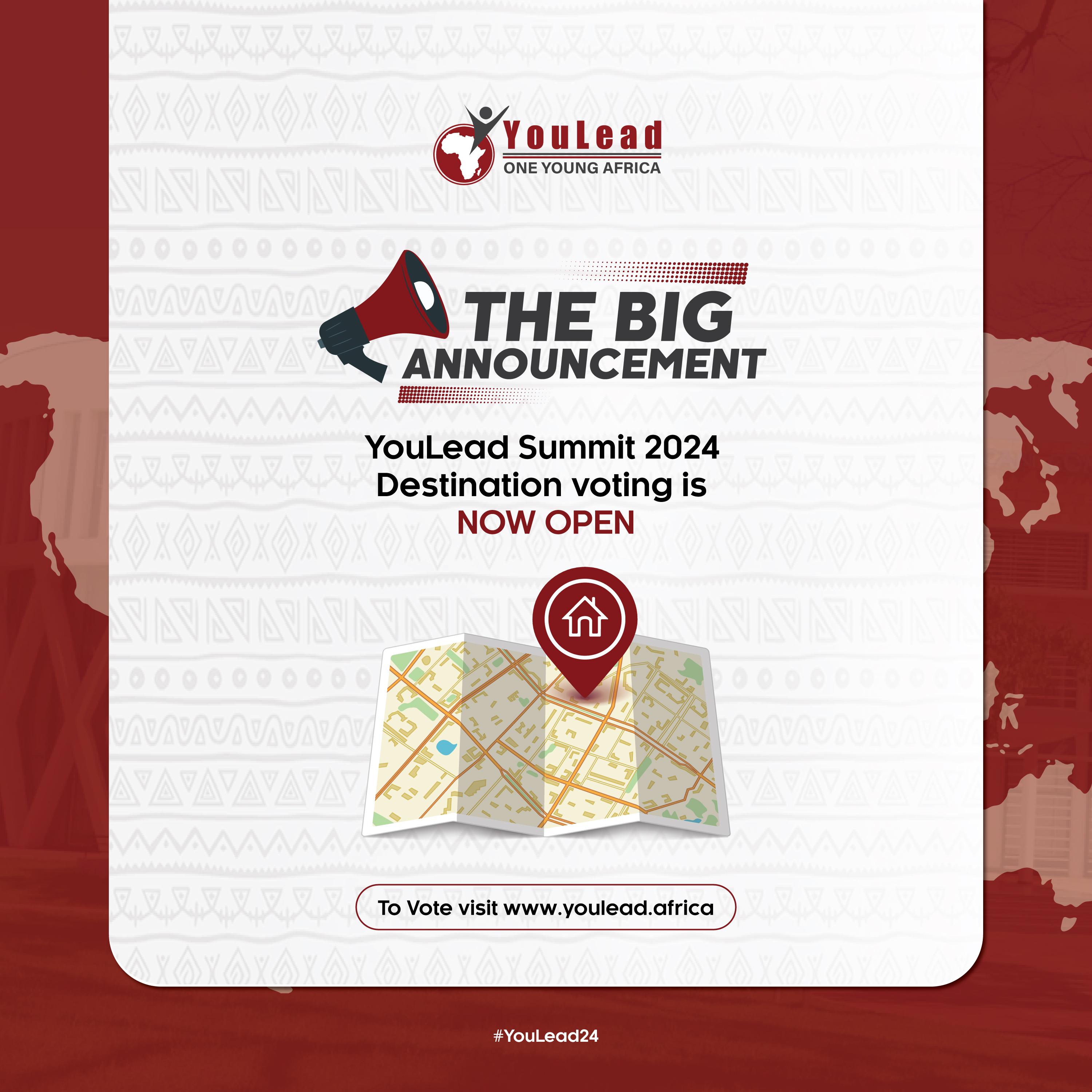 Applications Open:
27-Nov-2023 07:30 PM
Applications Close:
03-Dec-2023 11:59 PM
Event Start Date:
27-Nov-2023 08:00 PM
---
YouLead Summit 2023 Destination Voting
YouLead Summit 2024 Destination voting NOW OPEN!
Hello, One Young Africa Community, The YouLead Summit 2023 was phenomenal! As we bid adieu, our focus shifts to 2024.
We invite you to participate in selecting the destination for YouLead Summit 2024, vote for the next city to host #YouLead24
Let your voice be heard, and share with a friend to boost your city's chances!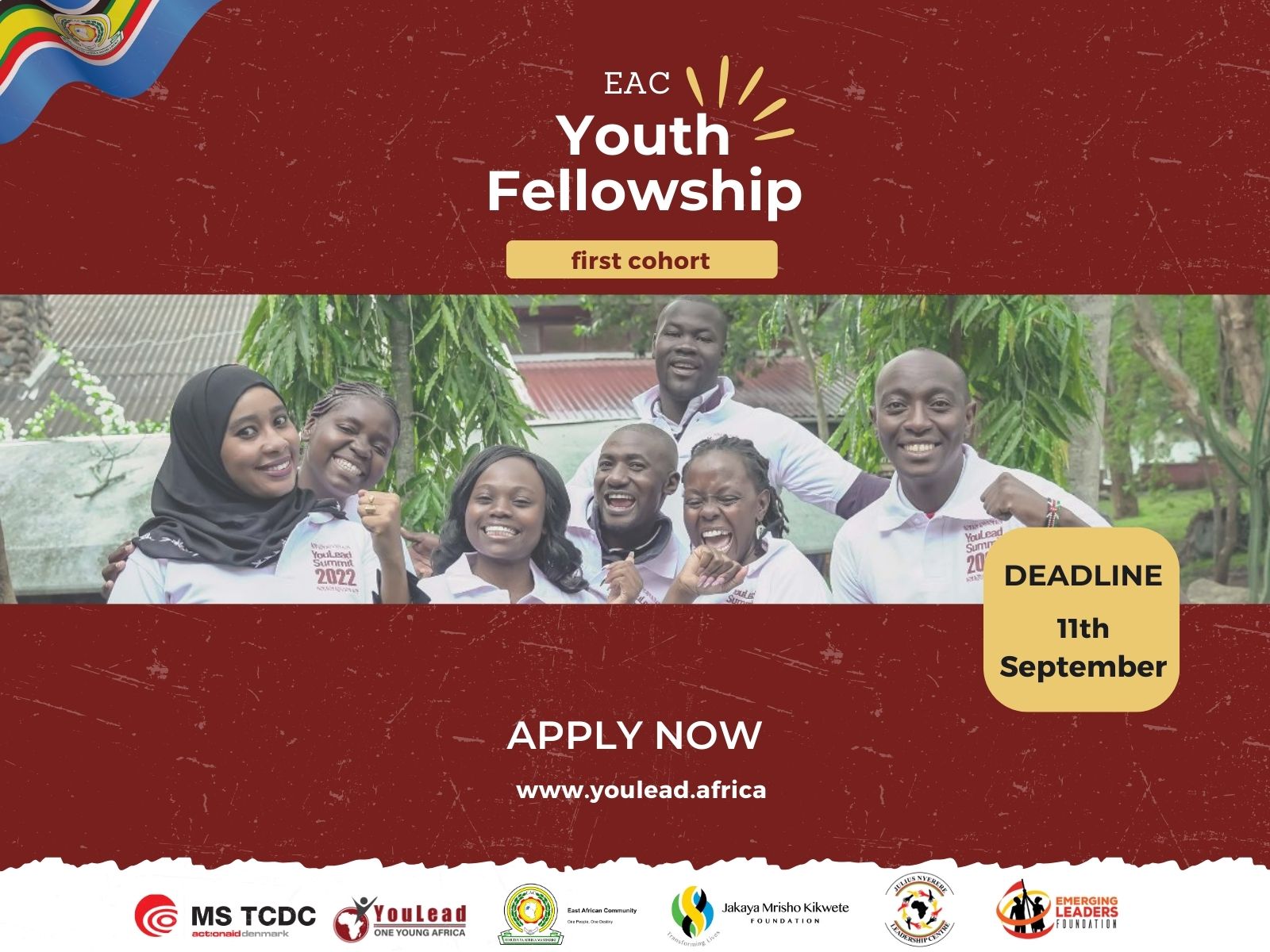 Applications Open:
21-Aug-2023 05:00 PM
Applications Close:
11-Sep-2023 11:55 PM
Event Start Date:
18-Sep-2023 08:00 AM
---
EAC Youth Fellowship Application Call- 1st Cohort
The EAC Youth Fellowship is a prestigious initiative designed to engage and empower young people in regional integration and leadership within the East African Community (EAC). This fellowship aims to harness the potential of youth and promote their active participation in shaping the future of the region. By offering mentorship, capacity-building activities, and networking opportunities, the EAC Youth Fellowship seeks to nurture the next generation of leaders committed to regional cooperation and development.
The following organizations have collaborated in the design of the fellowship: MS TCDC through its Africa Youth Leadership Program (You Lead Africa), The East Africa Community Secretariat, the Jakaya Mrisho Kikwete Foundation whose founder is also the YouLead Africa patron, the Julius Nyerere Leadership Centre (JNLC) and the Emerging Leaders Foundation
The fellowship will be focusing on two thematic areas;
Youth in Politics
Youth in Business
Eligibility Criteria:
To be eligible for the EAC Youth Fellowship, applicants must meet the following criteria:
Applicant should be between 18-35 years old.
Applicant must be a citizen of the East African Community
Applicant to have minimum [educational qualification of a Bachelors Degree.
Applicant must demonstrate capabilities or understanding and/or understanding of regional integration, leadership, business, economic governance or relevant fields.
Timeline:
One Week Virtual Training: 18th- 22nd September 2023
Phase I Training: 1st - 14th October 2023
Phase II Training and Summit Presentation: 13th-24th November 2023
Fellowship Benefits:
Selected fellows will receive the following benefits:
Mentorship Opportunities: Fellows will engage with experienced mentors who will provide guidance, support and apprenticeship throughout the fellowship.
Fellows will be placed in relevant institutions for apprenticeship
Regional Networks: Gain access to a network of professionals, policymakers, and fellow youth leaders from across the EAC region.
Capacity-Building Activities: Fellows will participate in workshops, training sessions, and seminars focused on enhancing leadership skills, policy understanding, and regional integration knowledge.
Financial Support: Fellows may receive a stipend or allowances to cover their expenses during the fellowship period the details of which will be communicated to successful participants.

We appreciate your interest in the EAC Youth Fellowship and your commitment to regional integration and youth leadership. We encourage all eligible candidates to submit their applications before the deadline. Remember to carefully review and follow the application instructions provided. We look forward to receiving your applications and wish you the best of luck in the selection process.
Queries- [email protected]